Students learn at Pinnacle because they want to learn.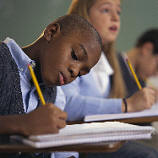 Our middle school -to -high school preparation program requires 100% student engagement. Students follow a syllabus designed to improve high school success. Students and parents work together to ensure student competency and success in coursework. Teacher engagement is holistic: informing parents & preparing students.
The Pinnacle Academy students are provided with an after school program that includes tutoring, mentoring, and social skills.
Students in Pinnacle curriculum is designed to meet and exceed state courses requirements to ensure courses transfer. Pinnacle is private school our rating may be found in NCES; we meet and exceed Texas Education Agency guidelines for middle schools. Parents must review Pinnacle curriculum and contact the transfer school for approval before enrollment if student intend to transfer to a public school.
Pinnacle is the school to ensure student engagement and promote student success for all youth. Our academies and small learning communities are design with a purpose, high school graduation.
Counselors, educators, and diagnosticians accessing the barriers to students success; we also identify the gifts that are untapped; highlight and utilize those gifts to give the educational opportunities that they need to be academically and socially successful.
Key Benefits
SAT Vocabulary
Classic essay writing
Math competency that begins with an assessment of mathematics skills
Clear goals and objectives that students can achieve and parents can understand
7 days a week and 24 hour access to course & course materials on the website
Test taking strategies; career preparation; character education; and civics
Pinnacle provides after school programs for youth that embrace character building.
Pricing
| Description | Semester | Other fees may apply |
| --- | --- | --- |
| Registration | 270.00 | Textbooks & Digital Textbooks |
| Pinnacle Middle School | 240.00 Monthly | Testing, Field Trips, Clubs |
| Testing | State Exams | Tutors |
| Credit Recovery | Based on course | Promotion Exercise Fees |
---